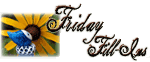 Howdy Doody friends. This Friday Fill-Ins thing looks pretty fun, and since I'm kinda new, maybe some of you might like to get to know me a little bit better.
Here we go:
1. The last meal I had at a restaurant was
a nasty chinese resaurant called SUPER JUMBO BUFFET. The place smelled like Moth Balls. I have no idea why we actually stayed, and ate, and paid.
.
2.
Cooked Spinach
is something I intensely dislike.
However, I love raw (salad) spinach.
3. The full moon
causes my friend to get a bit snarky from time to time. O
r, at least, tha

t's
her stor
y and she's sticking to it.
4.
"

Everything in Moderation

"
is one of my favorite local expressions.
5. Sometimes it's best to
lose the battle in order to win the war
.
6.
Dan in Real Life
is the best movie I've seen so far this year!
7. And as for the weekend, tonight I'm looking forward to
not having to cook dinner since Hubs will be working late
, tomorrow my plans include
maybe hitting some garage sales and
balancing the checkbook
,
and Sunday, I want to
relax at home with a Miller Lite!