I must be so annoying. My one friend, who I talk to on the phone at least twice a week (which is a lot for me), constantly hears me ask her, "Well, I mean, is it really THAT bad? What's the end result?"
The end result. That's what I want to know. I like to look at the big picture, not the specifics. So when a new challenge comes up, I usually ask myself, "Will I die from this?" Or, even, "What's the worst that could realistically happen?"
I think that's a fair question: Will my family fall into financial ruin? Will I gain 100 pounds? Will I get thrown in jail? Will I ruin my relationship with my family or friends? Will I damage my faith in God?
I try to think about the long-term, and go step by step until I am satisfied with a reasonable end result. I know, life doesn't always go step-by-step like it should, but it helps me to not obsess over every decision I have to make as a parent and wife.
For example, we are considering buying a new van. I don't really know if it will crunch us financially, but I think we can swing it. But what if we can't? Then we sell the van and buy something cheaper. Or we sell the van and go down to one car. That would be a
pain
, but it wouldn't be impossible. We'd make it work.
Another example: My husband is looking for a job in IL so we can move back closer to family. (BTW if we move, can I still be Texan Mama? because Illinoisian Mama doesn't really roll off the tongue quite as well.) I have kinda gotten to like Texas, though. He wants to know my feelings. I think, What if we move? I will have to make new friends. The kids will have to make new friends. We'll have to sell our house. We'll have to move... AGAIN. (I hate packing and unpacking). But, we'll survive. We've done it before. It will be tough but we'll make it through. What if we stay here in Texas? We'll continue to have no family nearby, no one to depend on if we're in a crunch. We'll still only see our family once or twice a year. We'll continue to get molested by the electric company with their de-regulated rates. But, will we survive? yes. Will we make it through? yes.
I know, it sounds silly. But I think I can wrap my head around decisions a lot more easily if I know that the fate of the world won't be changed if I make a simple decision.
This post was from a writing prompt at
MamaKat's Writing Workshop
. Click over there to see more awesome posts!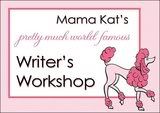 2.) "I need all the help I can get and if repeating something healthy and inspiring to myself several times a day helps, then I'm going to do it!" -What affirmation makes you feel better? WELL THINK OF ONE.
(inspired by Shanna from Smiles, Miles, and Trials)