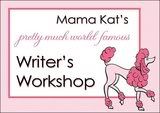 You look up
and see the stars;
You focus on what's out of reach
And you grab it.
Go. Go. Go.
Higher!
Faster!
Longer!
Right now!!
Your size is of no consequence
You can handle yourself
Nothing scares you
There are no obstacles
Only new adventures
Energy can't be harnessed
Enthusiasm can't be bottled
Determination can't be derailed
Scars are trophies
Band-aids are more trouble than they're worth
Boo-boos don't need a kiss
Just rub a little dirt in it.
Boys will be boys
And soon you'll be a man
With aspirations
You'll look up
and see the stars;
Remember to focus on what's out of reach
And grab it.
This post was part of MamaKat's Writing Workshop.

The prompt was:
2.) Write a poem about a picture.
Hop on over to Mama's Losin' It and play along!