Meet the newest member of our ever-growing family. My kids want to name him Sonic. Or is it a her? Who knows.
We found this little turtle in our back yard and fell in love with it. So cute!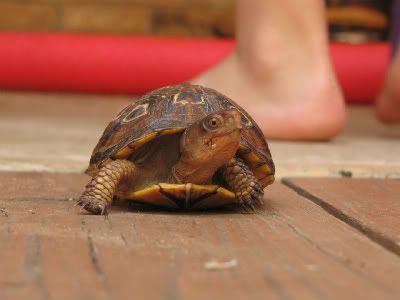 The problem is, we don't know if it's a turtle or a tortoise! I'm guessing a turtle, but from the investigation I've done on Google (remember: Google = gospel) turtles have flat shells and webbed feet. You can see that Sonic has neither of those, but I'm thinking those characteristics are only for
aquatic
turtles. However, we are guessing he isn't a water turtle, considering the nearest water to our house is a concrete drainage ditch. I took this picture next to a dollar bill so that you could see how big he really is: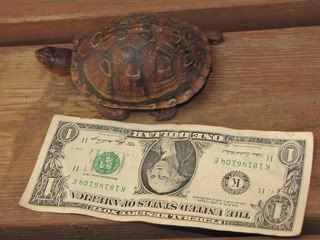 Also, Sonic's shell doesn't really look like a typical box turtle's shell. Also? No stripes on his face. His shape really indicates more of a tortoise, but tortoises aren't really native to America like turtles are. Tortoises have more of a domed shell, like Sonic does.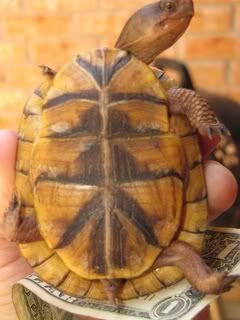 We put him in a large cardboard box outside in the shade. My husband put in a fake plastic tree (for decoration? I don't think it's fooling the turtle.) For food, we've given him some lettuce and a few carrots and a dish of water. I've put in a few pitted cherries too. We tried to give him bugs (turtles are omnivores but tortoises are herbivores) but he showed no interest in eating. Then again, he might have been a bit freaked out from the many small hands that want to pet him and love him and feel his skin and touch his claws.
I don't blame him one bit for pooping on the plastic tree.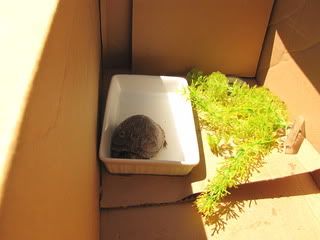 So, any turtle/tortoise experts out there? Ahem, I mean herpetologists? Can anyone give me the 411 on this reptile?