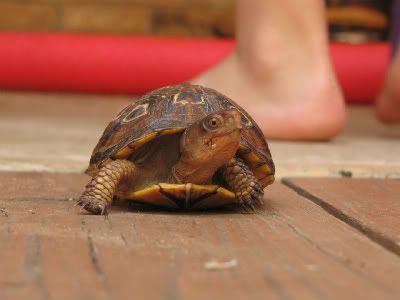 We aren't too great with pets. Actually, that's an understatement. We are pretty HORRIBLE with pets.
We have one dog. She's 6 and (I guess) healthy. She's a very good dog and everyone who meets her says how much they like her and wish she could come home and be
their
dog.
Okay, so, Texan Family = 1, Grim Reaper = 0.
Next, onto the Hermit Crabs: Speedy, Climby, and Hermie. Dead, Dead, and Dead.
Texan Family = 1, Grim Reaper = 3.
Then, there's the fish. No names for the fish, please. Don't name something unless it lives at least a week.
Texan Family = 3, Grim Reaper = 9. (If you're keeping count, 2 of the fish lived and 6 of them died. One committed suicide when I was moving him from the nasty fish tank to some nasty reserve water, so that I could clean the tank. Only, he took a dive into the dishwater while I was doing the transfer. I think he died of ingesting toxic water or else PTSD).
And now, poor Sonic has passed on. I did everything I thought I was supposed to: I gave him fresh water every day. I put a variety of fruits and crushed up dead bugs in his box. I gave him a pile of sand to burrow in so he could get out of the sun, AND I put his box in the sun so he could warm himself. But earlier today, when I went out to check on him, I saw him completely pulled into his shell, with one lone hind leg hanging out. I knew that just wasn't right. So I picked him up, I dusted him off, I touched his leg. Stiff. His eyes were closed. He was gone.
WWWAAAAAHHHHHHHHH!!!!!!!!!
Sonic was a good turtle. I know that sounds crazy, but he would actually let us pet his head and touch his legs. He didn't yank his extremeties in whenever someone picked him up. He never minded being touched gently. He was so nice. And now he's gone.
I have no one else with whom to share my grief because I have decided to lie to my children for the very first time. I took the box and turned it on its side, and I am going to tell them that the dog must have tipped it over and Sonic must have escaped back into our yard, to where he came from. I know I simply could NOT face my kids' reaction if I told them that he died. As it is, Charlie Brown is convinced he is the Angel of Death when it comes to pet care. If he knew Sonic died, he would probably never want to touch another pet again for fear of killing it.
I just have to keep telling myself,
it's for the best. Don't spill the beans. It won't help anything...