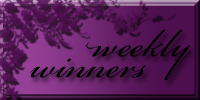 Hi again. Welcome to my Weekly Winners! For those of you who don't know what this is...
it's just a chance for you to show off your best photography shots of the week
. This is just the BEST of all worlds for me... I don't have to submit a photos for judging, I don't have to take a photo every day, I don't have to stand on a bench or take a self-portrait, I can just take photos of whatever I want. Not that I couldn't improve by forcing myself to take pictures of other things besides my kids, but.... I might focus on that when I'm not surrounded by 10 little legs tracking mud into the house and 5 (not-so) little mouths asking me for help with homework, a snack, and if they can watch TV. All usually in the same breath.
You can participate no matter what level of photographer you are. Even if your only camera is on your phone. It's all good.
I saw over on
Steamy Kitchen
, they are
giving away a Tamron zoom macro lens
. HELLO BABY COME TO ME. I'd L-O-V-E to win it. I know my chances suck but c'mon, someone has to win, right? Why not me??? The contest is open until 11/30 so hop on over there and enter for yourself! Wait, no don't! That will decrease my chances!!! On second thought, maybe you shouldn't!!!!
Okay, so, on to my weekly winners.... hosted, by the way, by the lovable Lotus (aka
Sarcastic Mom
).
Christmas Lights
Holding Hands
Raking
Beautiful.
There were SO many other wonderful pictures this week. To see them, check out my
Flickr Photostream
.